Not by mother tongue alone
has struck a much needed blow
against linguistic parochialism
by opposing the Karnataka government's
move to make
Kannada
a compulsory medium
of instruction from Classes I to IV.
Instead,
it has upheld the importance of
learning English in a world dominated by
this supposedly
'foreign'
language
although it is recognised as one of
India's 17 national languages.
The court has also advised
the state government to leave the matter to the parents,
who are prepared to pay
'Rs 40,000 to Rs 50,000 for getting
their children admitted in English-medium schools'.
One of the reasons
given by the apex court in favour of English
is that inadequate command over it
will prevent the students
from getting
'even clerical posts'.
It is this lesson that persuaded
the West Bengal government
to overturn its earlier decision to focus
on the mother tongue up to Class VI
as it found that Bengalis could not secure
any worthwhile employment outside the state.
Yet, such is the attraction of playing
the provincial card that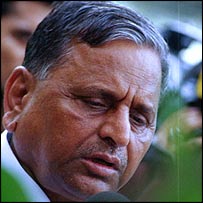 Mulayam Singh Yadav
wants a ban on English
while the Senas of both
Bal and Raj Thackeray are known
to have beaten up people in Mumbai
who could not speak Marathi.
The Karnataka government,
too, is clearly in favour of such
narrow-minded sub-nationalist ploys.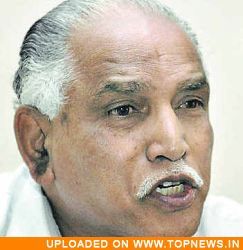 Unfortunately,
there have also been instances
where cinema halls have been attacked
in Bengaluru
for not screening Kannada films often enough
and
a railway recruitment centre was recently targeted,
a la Raj Thackeray's goons,
for not employing only sons of the soil.
Even as politicians try to derive mileage
by a display of their professed love for the mother tongue
— Mulayam Singh Yadav asked
Jairam Ramesh in the Lok Sabha
a few days ago to speak in Hindi —
the students themselves are capable of
learning more than one language at an early age.
Nor is it true that their
'intellectual and cultural development'
depends only on learning the mother tongue
in their formative years,
as the Karnataka government's counsel has argued,
because it is mainly the environment at home and at school
which fosters such development.
No one will call the rampaging
Shiv Sainiks
cultured despite their fluency in Marathi.
While it should be left to the parents and the
schools to decide on the medium of instruction,
it is the three-language formula
— mother tongue,English and another language —
that is most suitable for India.